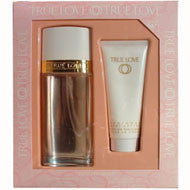 True Love for Women by Elizabeth Arden EDT 3.4 Oz. / B.L. 2.5 Oz.
True Love is classified as a refreshing, floral, soft fragrance. This feminine scent possesses a blend of lotus, iris and jasmine. Accompanied by the distinct scent of sandalwood and musk. True Love is the very essence of romance. This sensual floral bouquet has notes of jasmine, musk, narcisse, sandalwood, lotus, iris, and vetiver.
Shop with confidence!