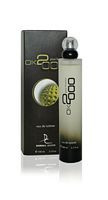 Ok 2000 by Dorall Collection
OK 2000 men's original cologne by Dorall Collection in 3.3 oz natural spray bottles This Masculine Scent Possesses A Blend Of Fresh And Aromatic, Florals And Herbs With Warm Low Notes Of Amber, Musk And Wood. It Is Recommended For Evening Wear.
Shop with confidence!