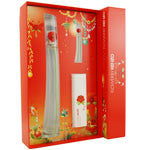 Flower for Women by Kenzo EDP 3.4 Oz. / B.M 3.4 Oz. / Mini .12 Oz.
This powdery floral scent is built on three basic notes. Floral note revolves around parma violet, gentle wild hawthorne, cassis and Bulgarian rose. Its powdery note is composed of voluptuous vanilla, white musk and opoponax with a gentle woody touch.
Shop with confidence!