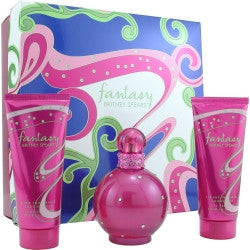 Fantasy for Women by Britney Spears EDP 3.3 Oz / Shower Gel 3.3 Oz / Body Lotion 3.3 Oz
FANTASY was launched by the designer house of Britney Spears in 2005. This scent possesses a blend of Lychee, Quince, Kiwi, Cupcake Accord, Jasmine Petals, White Chocolate Orchid, Musk, Orris Root and Woods.
Shop with confidence!